I will need to start this article with a diatribe that, over the last few weeks, I have slowly been building in my quiet contemplations in the deep recesses of my mind. It's apparently something that has not been well-received by the public, given the immense displeasure that erupted after Miley Cyrus's extremely provocative performance at the VMA's nearly two weeks ago.
I sincerely believe that her past as a crucial member of the Disney family should be forgotten. It clearly impacted her young life, but now it likely has little to nothing to do with how she views herself and how she lives her life. I do not think that her performance at the VMA's or her ensuing sexuality is her trying to completely dismantle the hopes and dreams of the little girls that sing "The Climb" while looking up to Hannah Montana with big, brown/baby blue eyes. Miley Cyrus is a pop star, much in the same way that Britney Spears and Justin Timberlake are.
I may have been quite young when Spears broke away from the Disney Playhouse, but I can remember when Timberlake broke out with his highly sexualized solo works in Justified and Future Sex/Love Sounds. I don't remember anyone really caring how his present work was affecting his past work and I believe we should take the same attitude about Miley. She has created a new identity for herself and we should judge that accordingly, as a separate entity. She is not Hannah Montana and she is not the Miley Cyrus on the cover of Breakout. She is the Miley Cyrus of Bangerz, her first truly pop-oriented album.
Now, I need to say something I never, ever, ever, ever, ever thought I would say: "Wrecking Ball" is a damn good song. More than that, it's probably the best song that Miley has ever released. This is coming from the girl that topped the charts with several big crossover hits, like "The Climb" and "Party in the USA," which, while not the best representation of American pop, were quite successful.
Despite some pitfalls and a childish fan base, Cyrus has completely reinvented herself over the last three years. The transformation began after quitting Hannah Montana, though I must reiterate that this change did not happen overnight. Check out her last album, Can't Be Tamed. Everything about that album, from its embrace of sexuality to its strangely uncontroversial ("trying too hard" best describes them) videos, is a stepping stone that takes her right to the VMA's and "We Can't Stop." I would argue that Can't Be Tamed, while it did put her on a self-imposed hiatus from the music world, strengthened her creative resolve to better herself musically.
At least, that's what I can infer from her personal judgments. I don't think I am alone in saying that "We Can't Stop" and the twerking craze she is propounding are great or important things. In fact, by all means, the large majority of public opinion seems to be against this very fact. However, I am sincerely glad that her VMA performance exists and that "We Can't Stop" has topped the charts in the United States. The song is terrible and, if it can be imagined, I think the VMA performance actually made the song better. Much like the song's trippy music video, the VMA performance introduced controversy to something that really wasn't all that interesting.
"We Can't Stop" is an interesting idea, but song-wise, does virtually nothing for me. The lyrics are satirical in some sense, but they really aren't as controversial as Miley probably wanted them to be. I will give her credit for her using the term "molly," then coming out as saying that it's not in reference to the drug if you're under ten.
Not only are the lyrics weak, but her performance is underwhelming, to say the least. Not that Cyrus has ever had a particularly strong singing voice, but she reaches new lows on "We Can't Stop." A lack of emotion and dazed sound to her voice really makes her seem too drugged out to perform. In some sense, it's kind of like the old days when Eric Clapton got too drunk before the show to even stand up of stage, let alone play his guitar. "We Can't Stop" is Miley Cyrus trying too hard to be controversial.
But, she does succeed in her music video for that song. Giant teddy bears with huge asses, Cyrus twerking with a few friends, and just general malaise make this one of the strongest videos in her repertoire. Though, again, not necessarily controversial (which once again, seems to be her end goal as of recently), but I do think it is different from most of the videos circulating right now. Like the Lady Gaga of The Fame, Cyrus is creating a character: this character may or may not be the person she is actually becoming, like Gaga, but I don't think enough time has passed for the public to really make a decision about Miss Cyrus yet.
Now, for the new single. "Wrecking Ball" is everything that "We Can't Stop" isn't. It's catchy, it's emotive, and it's got deeper lyrical content. First off, the catchiness – this song could easily have come out of a Lady Gaga recording session. In fact, it wouldn't be surprising if Cyrus announced that she wrote it with Mama Monster. The chorus, despite its darkness, is very much a sing-along chorus, a la "The Edge of Glory" by Gaga or "Here's to Never Growing Up" by Avril Lavigne.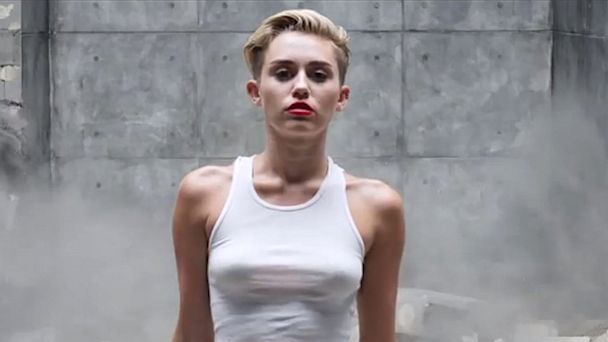 But unlike those other songs, which while good, are more pop songs than anything else, I would argue that "Wrecking Ball" is just a genuinely good song, throwing genre out the window. It has that rock 'n' roll attitude that Cyrus has never really embodied before. More than that, it stands for something we can all relate to: heartbreak. "The Edge of Glory" is about being awesome, and "Here's to Never Growing Up" is about childish misbehaving, but "Wrecking Ball" is about getting your guts ripped out, chewed up, and trampled on until there's nothing left. There is something to be said about a songwriter that can bring that kind of emotion out in a song and have it climb the charts at the same time.
Emotionally, this song is leaps and bounds above anything she has written in the past. "The Climb" is very emotional, but only if you're a young, teenage girl. "Wrecking Ball," while not accessible to everyone because, hey, it's Miley Cyrus, and what straight boy listens to Miley Cyrus (*ahem*), "Wrecking Ball" is much more relatable. Notice the straining of her voice: it's not deadpan like "We Can't Stop" and it certainly features a better quality voice. When Cyrus sings, even if slightly auto-tuned, you can feel that this heartbreak is not something that's foreign to her. She has been there before and, one can hope, this song is her cathartic way of getting through the tough times that a break up brings.
Finally, lyrically, this song is great, mostly because of how dark the lyricism can get at certain points. This is not to say that "We Can't Stop" isn't dark: on the contrary, I think the visuals provided in the music video bring new life to lyrics that, without commentary, are pretty flat. But "Wrecking Ball" possesses a dark, romantic lyricism that just gets my stomach tight with knots.
The chorus is a straight plea: "I came in like a wrecking ball/ I never hit so hard in love/ All I wanted was to break your walls/ All you ever did was break me/ Yeah, you wreck me." Coupled with the pounding 80's-ish beat, it is quite jarring. It's catchy, but dark: an odd, but successful combination. The bridge is equally emotive: " I never meant to start a war/ I just wanted you to let me in/ And instead of using force/ I guess I should've let you win." Think about that. It's so impossibly sad. Not only is the life of this girl utterly collapsing in the face of a fight, but there is just abject surrender pervading every word coming from her mouth. It's brutal, absolutely toxic. You can make fun of me if you like, but lyrically, this song actually does make me tear up a little bit. Can I at least explain why?
The music video for "Wrecking Ball" is a complicated matter. One key function that it has is that it does, in part, drive home the sadness and hatred the song excretes. That function is best represented by Cyrus's facial expressions. During the majority of the video, when she isn't making out with a sledge hammer or groaning in some oddly sexual fashion, her eyes express nothing but sadness. The first ten seconds nail this. One, lonely tear (forced or not, it works!) rolls down her cheek as she sings the first lines of the song: "We clawed, we chained, our hearts in vain/ We jumped, never asking why/ We kissed, I fell under your spell/ A love no one could deny." Already, the song has delivered a punch of deadly depression that cripples everything that Miley sang about in "We Can't Stop." Something about her eyes makes the song eerily haunting, as if she isn't really all there. And, like the video for "We Can't Stop," this ethereal presence she maintains strengthens the video and the lyrical content.
But, the rest of the video is just God-awful. Seriously, this video is the definition of trying way, way, way too hard to be a little controversial "game-changer." Literally, the entire video features Cyrus in either a white tank top and panties, or completely naked, covered by a chain supporting the wrecking ball that she is sitting on. Once again, completely naked. Why? How does this possibly fit in with the mood of a song like this? I'm the furthest thing from a prude and I think artistic creativity in the form of nudity can work, but in this case, it's an utter failure. The wrecking ball, I get. The sledge hammer, I get (although I don't know why she spends a significant portion of the video licking it).
The fact of the matter is that her nudity is not controversial. People are probably thinking, Oh, GOSH! First she's twerking with Robin Thicke, now she's got her bare fanny on a wrecking ball! My goodness, I do believe her cleavage is showing!
NO! This is a silly reaction to have. A better would be to question why exactly Miss Cyrus ist rying so unbelievably hard to constantly outdo herself? I can fathom her stripping down for a music video, for the sake of controversy or for art, but I do not think that "Wrecking Ball" was the right song choice for her "act." To me, this pitiful attempt at outdoing her performance at the VMA's completely ruins the video for me. Listening to the song, I think it can stand alone as a good representation of what an evolving artist can accomplish. But, as I have argued before and will argue again, a song's music video is inherently connected to the song itself. So, the song is actually just middle of the road. If the imagery that Cyrus wants to project on a meaningful song is controversy and nudity, then she has lost me, somewhat.
Because, well.. I still love the song.
Yes, that's right, the music video may be terrible, but this song will remain on my current obsessions playlist and I will play it into the ground with great satisfaction! And so, on that note, I came in like a wrecking ball, and I'm leaving like one too. Stay classy, fiends. P.J.S. out!
Song Rating: ★★★★
Attention, beloved Wastelanders! Let us thank you
for your support by extending this 25%-off coupon to you from GoDaddy. You've heard of them for a reason, friends. We trust them enough with our domain to plug 'em! Now, take this coupon and start a wasteland of your own. Tell us about it and get featured on our site! Is that the sound of free advertising I hear? Yuuup.
Related articles